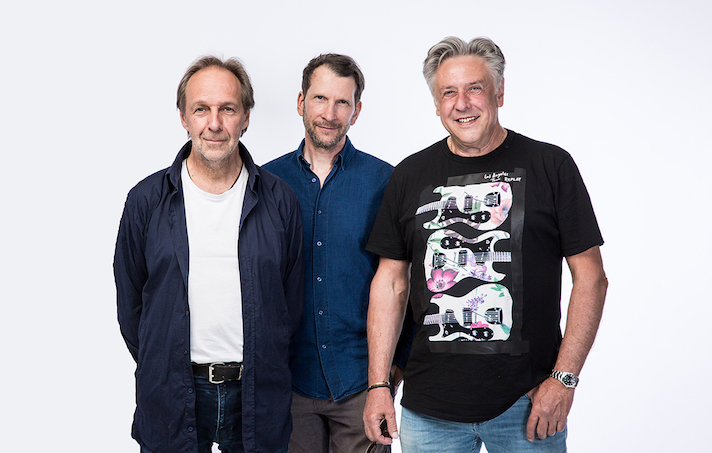 B3
Rockier than Jazz, jazzier than Rock: The Berlin organ trio B3 combines nifty arrangements with strong melodies and convinces live with lots of passion and groove.
With their fourth album "New Songs, Old Socks", B3 are back and present new songs as well as older pieces in a new guise, musically at home between blues, rock and jazz. Keyboarder Andreas Hommelsheim, guitarist/singer Ron Spielman and drummer Lutz Halfter last released the long player "Get Up! Live at the A-Trane ". Due to the pandemic, the band had to postpone their recording plans for 2020 and do without their French bassist Gérard Batrya. Without further ado, Hommelsheim took over the bass part on the electric organ, experimenting intensively with new sounds and effects. He arranged the music for a trio and added a choir to the band sound in the studio, consisting of Ingrid Arthur (Weather Girls), Monica Lewis-Schmidt (Sarah Connor) and Simon Paterno (The Voice of Germany). He was also able to win percussionist Rhani Krija (Sting, Keziah Jones) and musical singer Veronica Appeddu (Dance of the Vampires) for some songs on the new album.
B3 mastermind Andreas Hommelsheim played with Alphonse Mouzon, John Lee and Gerry Brown to name just a few, shared the stage with Kool & the Gang and worked with stars like Nena, Nina Hagen, Jan Delay, Smudo, Max Raabe, Ofrah Haza, Ute Lemper and Jennifer Rush. As musical director of the German version of countless famous film productions, he collaborated with Andrew Lloyd Webber and Hans Zimmer, among others. For "The Lion King" he received a gold record as producer of the German original soundtrack.
Guitarist and singer of the band is Ron Spielman, whose play between blues, rock, jazz and funk is distinctive and with virtuosity and has long enjoyed cult status among press and fans. Spielman has already played with Tommy Emmanuel, Beth Hart, Bootsy Collins, the Chick Corea Electric Band, the Climax Blues Band as well as Johnny Guitar Watson and was tour guitarist for Andreas Kümmert, Flo Mega, Ivy Quainoo and many more.
Drummer Lutz Halfter studied at Berklee College in Boston, worked for numerous Berlin orchestras and theaters and played drums for Jocelyn B. Smith, Precious Wilson and many more. He has shared the stage with Hommelsheim since the 1970s.
"An extremely rested West Coast sound,
which the band perfected on their fourth album"
(Jazz thing 2/3-2022)

"Funky soul groovers and jazzy fusion sounds"
(Good Times)

"Worth every jazz rock penny and Hammond sound dime"
(Concerto)
Upcoming Shows
16.09.23 | Elbeforum, Brunsbüttel, DE

19.10.23 | Haus der Familien, Kempen, DE

20.10.23 | Kurhaus Bad Hamm, Hamm, DE

21.10.23 | Jazzclub Paderborn, Paderborn, DE

28.10.23 | Aula d. Schulzentrums, Weil der Stadt, DE

19.04.24 | Eboardmuseum, Klagenfurt, AT